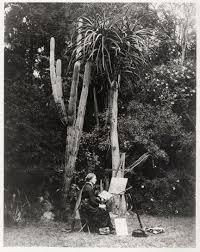 Marianne North Collection
Marianne North was a remarkable Victorian artist and botanist who travelled the world, breaking conventions and discovering new species of fauna and flora. Rather than falling into the traditional role of a Victorian women, Marianne travelled often alone (which was frowned upon at the time) across many countries which were virtually unknown to many Europeans.
Over her 14 years of global travel and adventure she created 848 paintings and even documented species that were not previously known to science. The collection of her paintings is held at The Royal Botanic Gardens, KEW and they are truly stunning.
Our latest range with Kew has been curating using inspiration from their archives and samples of Marianne's painting which we have been given exclusive access to by Kew.
A percentage of every sale from this range goes towards the vital work carried out at Kew into climate change research, conservation and preservation of natural habitats.